Ozark Trail-Middle Fork Section-April 13-14, 2013
I called my new hiking partner Larry about mid-week to see if he wanted to go for a little walk on the upcoming weekend. He had been really busy and had not been on the trail since he went with me back in January so he was game to go. We decided to each take our own trucks so we could do a point to point hike. Our plan was to leave my truck at the north end of the Middle Fork Section at the South DD Trailhead then ride together down to the Highway J Trailhead and hike the entire section back to my truck.
The drive up was a long one. I think total drive time was over 3 hours but we did have some interesting entertainment on the last few miles of the drive. The squirrels were out in force on a section of Highway 49 in numbers like I've never seen. I had to brake several times to keep from running over some of them. I don't know what was on that road they were after but there were dozens of the little critters for a 3 mile stretch and they wouldn't move until I was right on them. Through this same area I saw two big Tom turkeys with beards over 6 inches long. They didn't budge from the side of the road as I went by.
After all the driving we managed to get on the trail around 10:30AM. The weather was clear with the temp in the upper 40's and a forecast of near perfect hiking weather. From the trailhead we headed north up the lane we came in on and crossed the highway. From there we had a long climb to the top of the ridge overlooking the Brushy Creek valley.
At the top of the hill is the beautiful memorial to John Roth, a dedicated trail volunteer, who this section of the trail is dedicated to.
The trail meandered through the woods with a few ups and downs and around the 3.5 mile mark we came to Strother Creek. This creek is actually the run off from a small lake that is a "tailings pond" of the Doe Run lead mine operation. The trail is actually on Doe Run property here so we didn't do a whole lot of prowling around.
We crossed several small creeks during the day that were all flowing due to recent rains. There is something about these Ozark creeks that's a bit magical to me and I always have to pause and take in the sights and sounds while crossing. The creek bottoms may be "slick rock" that looks like smooth concrete, jumbled boulders, or rocks and gravel. Each one is unique and hiking by and through the creeks is one of my favorite parts of the Ozarks.
We had traveled a bit over 10 miles when we came to a low water bridge across Neals Creek which is a good sized creek. Larry suggested we take a break here and before I knew it he had his pack and boots off and was sitting on the bridge cooling his feet in the creek. It didn't take me long to join him and the ice cold water felt great on the hot feet.
Heading on up along the creek we went by the biggest beaver dam I ever saw. Those critters are amazing little engineers. On farther up the creek we had to cross Larry, Spot, and I all chose different spots to cross. Larry and I managed to rock hop and Spot just went in and swam.
By late afternoon we had hiked about 13.5 miles and had come to Henderson Creek. We decided to make camp here and proceeded to drop our packs and I setup my tent as Larry hung his hammock. We then walked on down to the creek to filter some water. The creek was really pretty with some nice riffles falling into a pretty pool that was about three feet deep. After getting our water Larry said he was going to rinse off a bit in the creek. That sounded like a good idea as we had both got pretty hot that afternoon. I was still back at the campsite when I heard Larry let out a holler and from the sound of it I assumed the water was a bit on the cool side.
I headed on back to the creek and found a place I could ease down the rocks into the little pool. The water was freezing cold but when I finally got to the deep spot I just went on in. Going under there was that sudden rush that you only get when completely submerging in cold water and I love it. I came up hollering, feeling total invigorated and refreshed. I sloshed around for a few minutes then climbed out and dried off. Man that felt good!
We ate some dinner chatted for a while then turned in. Once the sun set it began to cool off fast and it wasn't long until I slid into my warm bag. It was a quiet restful night with so many stars shining it seemed they were all connected. I woke up at dawn and peeked out to see if Larry's hammock was still hanging. It was still up but was definitely much closer to the ground than it was when he went to bed. I will stick with my tent.
It wasn't long until Larry slid out of his hammock and we fixed a bite to eat then packed up for the trek out. The rest of the hike out was just a pleasant walk in the woods. We crossed a few more creeks and stopped for a break at Wolfpen Hollow Waterfall. It has a 10-12 foot drop and was a great place to rest. We made it back to my truck around noon and I drove Larry back down to his truck on Highway J. From there we headed home finishing another great weekend on the Ozark Trail.
The total hike ended up being about 23 miles and made for an easy 2 day jaunt.
Some pics of the journey: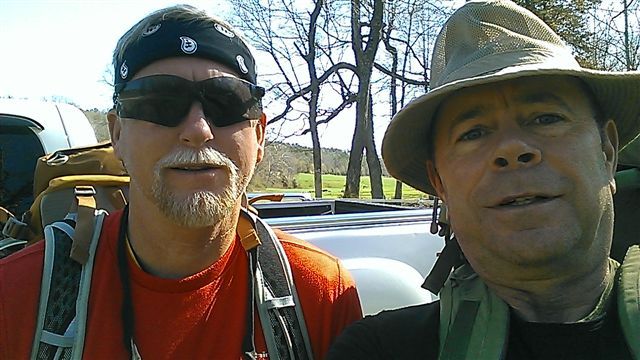 Larry and Mike at the trailhead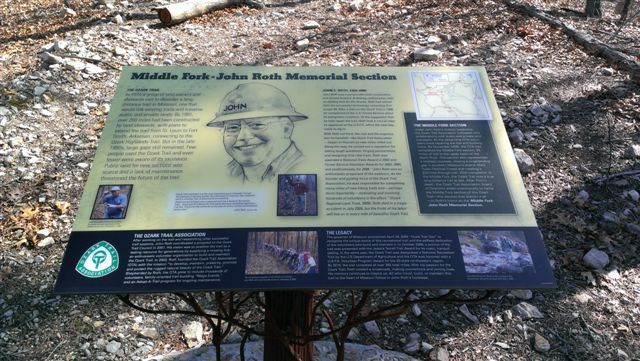 John Roth Memorial-There are one of these at each trailhead.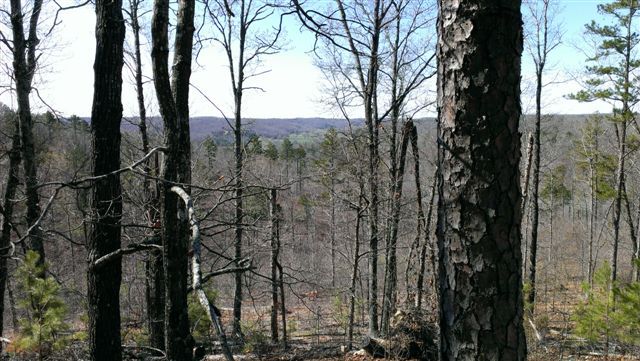 View from Memorial at south end of trail.
The only tree blooming, not sure what it is. All other trees still barren.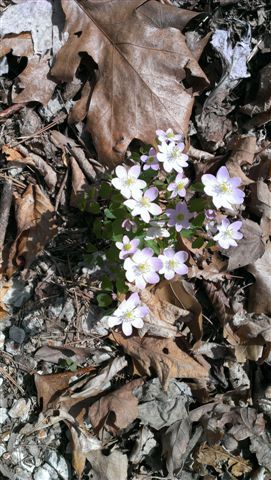 Wildflowers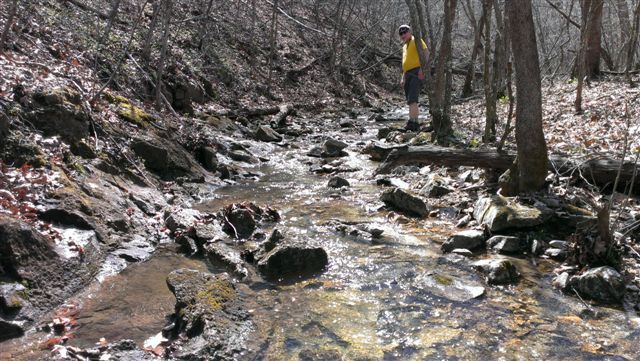 Larry checking out a creek
Another pretty creek
Man that feels good!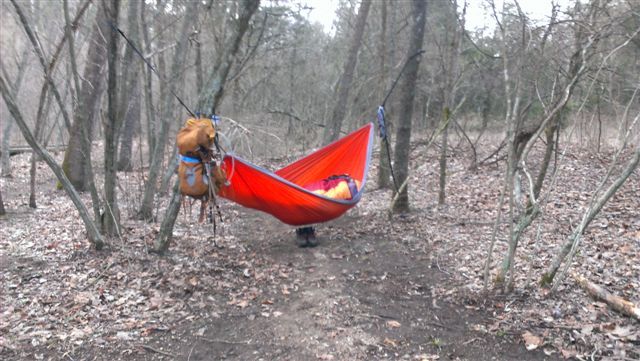 Sunday morning, Larry hanging low.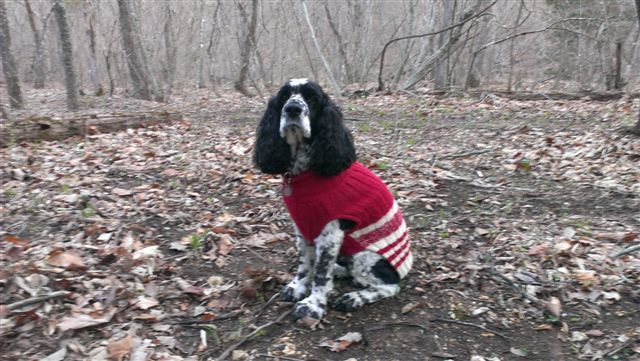 Trail dog Spot waiting on us to get going.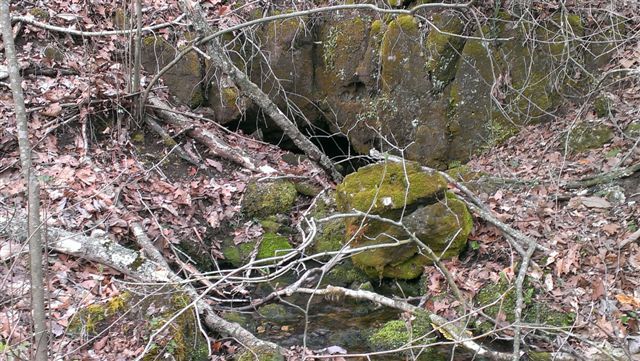 Small spring about 150 feet from where we camped. Didn't find it until Sunday morning.
Where I took a dip.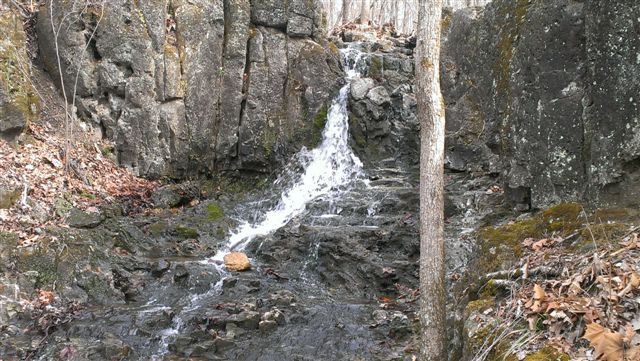 Wolfpen Hollow Waterfall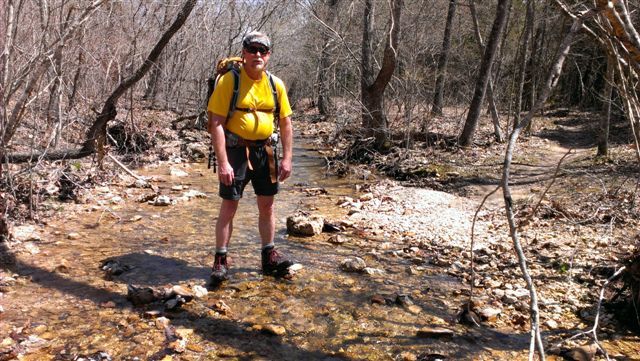 Larry standing in the headwaters of the Middle Fork of Black River