Spot the trail dog and I played hooky from work Friday so we could explore another section of the Ozark Trail. I had hiked the southern half of the Karkaghne in January of 2012 and decided it would be a good time to finish up this section. The plan was to park at the Highway J trailhead, hike to Suttons Bluff, camp, then hike back the same way we came in.
This is the section of trail that David Decareaux and his 8 and 10 year old sons lost their lives on in mid January of this year while out for a day hike. A tragic accident that weighed heavily on me the entire trek especially since I was following the same path they took. More on this in a future post.
We were on the trail by 10:30AM and quickly came upon Brushy Creek as it's only a few hundred feet from the parking area. A little advice to those that might start their hike from this point: If it's been raining within the last few days don't bother putting on your boots at the trailhead because you will have to take them off in about 2 minutes to cross the creek.
Of course I still think I can walk on water and proceeded to cross with my boots on thinking I could tiptoe across the deep spot. Wrong, I managed to just top my boots enough to get my socks damp, not squishy wet but wet enough to be a bit uncomfortable. I turned around looking for Spot and saw he had decided to go a few feet upstream from where I crossed and was swimming. Seems he picked an even deeper crossing. Oh well, the suns shining and its warm so what the heck.
We proceeded on up the trail and it wasn't long until we started a pretty good climb out of the hollow. By the time we topped the ridge my shirt was wetter than my feet. I couldn't believe how warm it was, all I had on was shorts and a thin short sleeve shirt and I was sweating like a horse. On we plodded with Spot in the lead inspecting the trail and probably wondering what some of the scents he was picking up were. I can't keep from laughing watching him with his nose on the ground like its following a rail and his butt just trying to keep up.
There are a lot of cross trails in the first 3 miles from the trailhead. It's not difficult to follow the Ozark Trail as it's well blazed and has a very obvious tread and wide corridor. The smaller trails I suspect are maintained by the folks at Brushy Creek Lodge for the horse trail rides.
It wasn't long until we started down hill and came upon Gunnis Branch a pretty little spring fed creek. I decided this would be a good time to take off my boots and socks and let them dry for a bit while we ate a snack and prowled around for a while. There is an old road that follows the creek going upstream and it's less than a quarter mile to a small spring that feeds the creek. There are some old buildings along the way a bit off the road but they are posted with No Trespassing signs so I didn't check them out.
I had just slipped off a croc and started pulling on a sock when I heard a bunch of commotion behind me. I turned and saw several folks on horseback coming down the trail. I started hopping around on one foot trying to get a hold of Spot as I wasn't sure how he would react to horses since he's never seen one. He let out a half hearted bark then looked up at me with a look of sheer terror. I couldn't help but laugh.
I started chatting with the guy that was in the lead when suddenly someone calls my name. I turn and see that the last rider to come in was my Jr. High math teacher. This is the first time I have encountered anyone I know on the trail and was quite surprised. We chatted for a bit then went our separate ways.
Somewhere around the 5 mile mark on top of a ridge I got a glimpse through the trees of a mountain way off to the East that looked familiar. A few hundred yards farther I came to a spot where I had a better angle and sure enough there was the Taum Sauk upper reservoir off in the distance. Impressive even at this distance!
The rest of the hike that day was just a nice walk in the woods. Spot and I arrived at Suttons Bluff campground at 3:30PM and proceeded to find a campsite next to the river. Last year when I hiked the southern portion of this section I camped here but the weather was dramatically different. There was a dusting of snow and the ground was froze so hard I couldn't drive the tent stakes into it. Today, it had to be in the seventies. As soon as I got camp all squared away I went down to the river and cooled off. The water in the river was refreshing to say the least.
Spot and I spent the remainder of the daylight hours visiting with some of the others in the campground and exploring the river. We hit the sack just before eight and were quickly lulled to sleep by the sweet sounds of the river. Life is good!
Saturday morning I got up at daybreak and fixed a cup of coffee and some breakfast. I needed to be back home by mid-afternoon so we didn't tarry long. By 8:00AM we were packed and heading up the hill enjoying the crisp morning air. The hike back was uneventful except for one little bit of off trail pilfering. On the way in a reflection way down in the bottom of a hollow caught my attention and was off of what appeared to be a silver helium balloon. I didn't check it out on the way in but was thinking about it wondering if it might be one that someone had tagged hoping for a response when it was found.
As usual my curiosity got the best of me so I decided if I saw it on the way back I would check it out. When I came upon it I dropped my pack and started working my way through the brush down the steep hillside to the little balloon. No note, just a Happy Birthday balloon that had took flight. Oh well, now to get back up that hill.
I did encounter a couple about half way back to the truck that were heading for Suttons Bluff. We chatted for a bit and I was informed they were close to finishing the entire Ozark Trail. They were knocking it out in sections much as I am.
When we arrived at Brushy Creek I picked Spot up to carry him across as I wasn't to keen on the idea of riding home with a wet dog next to me. I got so tickled with his "air swimming" while I was wading across I nearly dropped him. It was straight up noon when we got to the truck. I put my pack in the back of the truck and opened the door so Spot could jump in the passenger seat. Once I got in and started the engine Spot looked over at me and said "Home James" and curled up and went to sleep before we even got to the highway. I long for a "dogs life"!
Trail Information: This section from the Highway J trailhead to Suttons Bluff is in great condition. The trail is extremely easy to follow and is well blazed. The tread is in good condition with just a few rocky stretches and hardly any washouts. There are no real "butt kickers" in the way of elevation change coming or going. Distance is 11 miles one way and makes for an easy "out and back" overnighter.
A few pics:
Mike and Spot ready to hit the trail.
Brushy Creek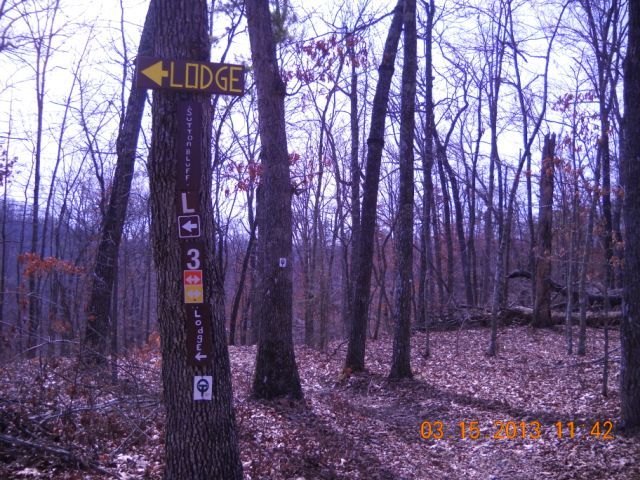 New "Lodge" sign on trail.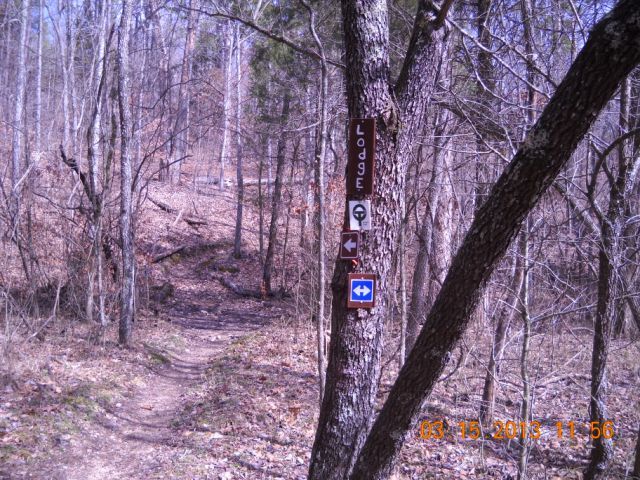 Blazes on Trail
Spring feeding Gunnis Branch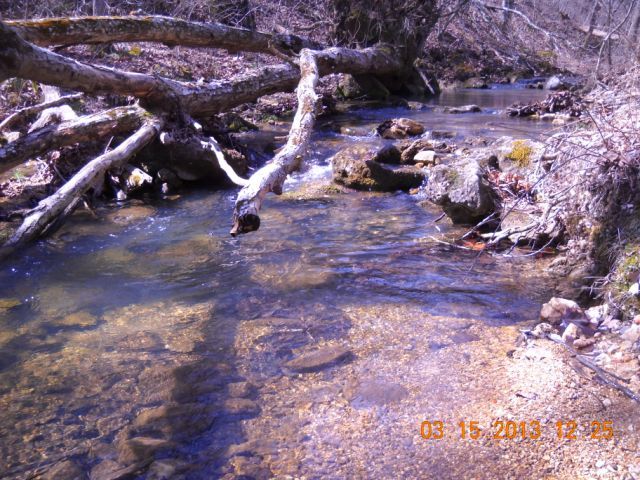 Gunnis Branch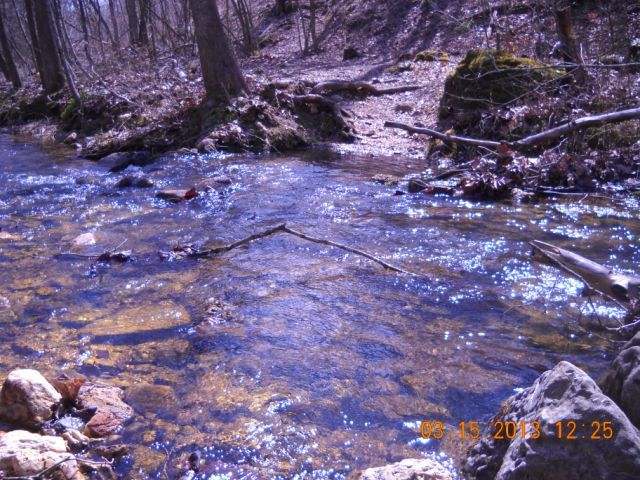 Gunnis Branch
Look real close and you will see the reservoir-right center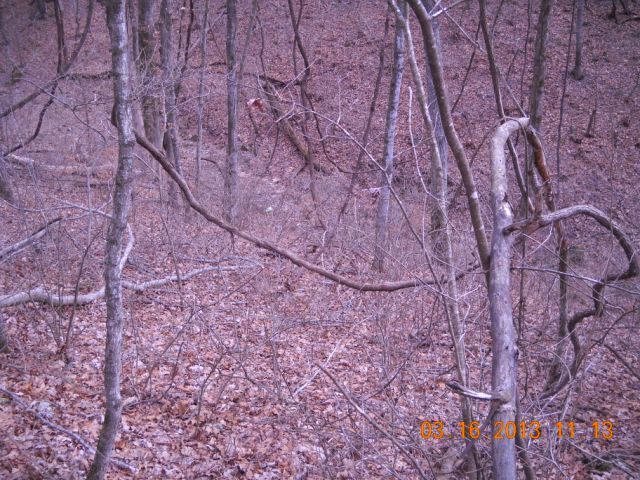 Can you find the balloon?
Here it is!