I know this trail is not a part of the OT and if this post is out of line let me know and I will delete it. Years ago if some of the OT designers had managed to get all the routes they desired this would have been included.
Irish Wilderness-Mark Twain National Forrest-11/24-25-2012
The Irish Wilderness is an area with an interesting history. I won't go into the details in this post but here is a link to a site that will give you more information:
http://www.fs.usda.gov/wps/portal/fsinternet/!ut/p/c4/04_SB8K8xLLM9MSSzPy8xBz9CP0os3gDfxMDT8MwRydLA1cj72BTJw8jAwjQL8h2VAQAzHJMsQ!!/?ss=110905&ttype=recarea&recid=21728&actid=51&navtype=BROWSEBYSUBJECT&position=BROWSEBYSUBJECT&navid=110000000000000&pnavid=&cid=null&pname=Eleven+Point+Ranger+District+-+Irish+Wilderness
I had not hiked this area and when I started doing some research I found it had a loop trail that would make for a nice two day excursion and amazingly enough it was only 90 miles from where I live. I decided to head that way the weekend of Nov. 24th.
Trail dog Spot and I arrived at the Camp 5 Pond trailhead a bit after 8 Saturday morning. The skies were crystal clear and the temperature was a balmy 24. We were on the trail heading through the woods by 8:45.
All the leaves were off the trees and they covered the ground like a golden brown carpet. The forest was all small second growth hardwoods with an occasional pine and cedar. I had read that the trail had hardly any blazes and due to lack of use could be difficult to follow. This turned out to be true and with the heavy leaf cover one had to really pay attention as in many stretches the trail was not obvious at all. It did make the hike more challenging and thus more interesting.
Our destination for the day was Whites Creek Float Camp which was somewhere between 12 and 13 miles from our starting point. The first 8 miles was a very pleasant walk through the woods, no really outstanding views or rock formations just a peaceful and relaxing walk with a few ups and downs.
About 8 miles in we came to a spur trail to Bliss Spring. It was a little after noon and I was hungry so I decided to take a lunch break at the spring. Bliss turned out to be a beautiful spring bubbling out of the bottom of a near vertical wall of rock. The flow from the spring was amazingly strong especially considering how dry it has been. Spot and I had a nice lunch, took some pictures and then got back on the trail around 1:00PM.
The trail pretty much followed the creek the spring had created and it wasn't long until we came to another spur trail that led to the remnants of an old homestead. We eased on down the spur and when we got to the old homestead the only thing still standing was the chimney and cistern. The location was outstanding though. The house set just a few hundred feet from the Eleven Point River high up enough it was probably safe from floods and the spring fed creek was less than fifty feet from the side of the house. From the orientation of the chimney I would guess the front porch faced the Eleven Point River and I could just picture the Irish pioneers setting on the front porch relaxing after a hard days work enjoying the view of the river.
Heading back up the spur trail then back on the main trail we started a climb up a bluff that overlooked the river. A nice view always seems to make those steep climbs a bit more pleasant. The next few miles followed a ridge that circled around Orchard Hollow. I assume that at one time there was an orchard in the bottom of the hollow hence the name.
After a couple miles on the ridge we started a steep decent down and ended up at Whites Creek. The trail followed the creek and it wasn't long until we came upon a bluff that the bottom was one small cave after another. This would have been a neat place to do some exploring but currently no one is supposed to enter any caves due to fear of humans spreading the "white nose syndrome" that is killing millions of bats. We took some pictures and continued on.
Not much further on down the trail we came to the spur trail that leads to our destination for the night, Whites Creek Float Camp. Turns out it is an actual campground of sorts with picnic tables out pretty much in the middle of nowhere. The only access is by foot or canoe from the Eleven Point River. I do believe this camp is outside the Wilderness boundary from the remnants of a sign I saw.
It was about 3:30PM when I dropped my pack on one of the picnic tables and proceeded to setup my tent. It had been very cool all day, in the low forties, and I suspected as soon as the sun set it would get cold in a hurry so I wanted to get everything done before dark. Spot and I enjoyed a nice dinner along with a small camp fire then turned in around 6:00PM.
By 7:00PM the moon was so bright it started looking like daylight and the cold started setting in as I had suspected. I slept warm but sometime during the night I opened my eyes to see Spot standing over me and I could tell he was cold. I had put a sweater on him, yeah my dog wears a sweater, and covered him with my down jacket but I guess he had wiggled out from under the jacket. I covered him up again and I don't guess he made a move the rest of the night because he was in the same exact position as when I covered him.
Sunday morning I got up at dawn to find everything covered in a thick layer of frost. The temperature was in the low twenties and the water in Spots water bowl had frozen solid. Fortunately I had put all my water bottles under cover so they were just nicely chilled. I fixed a quick breakfast and some coffee then packed up all my frosty gear. We were back on the trail by 8:00AM.
Getting back on the main trail we had a pretty good climb out of the river bottoms. The next intended sight to see was Whites Creek Cave but that was not to be. I lost the trail going up and ended up bushwhacking my way up to the narrow ridge the trail should follow according to my map. Once on the top of the ridge no sign of a trail. I study the map and feel certain I'm on the right ridge so I continue on. I stopped a couple of times looking at the map and started second guessing myself, Spot looks up at me with that what's the problem look. The ridge "felt right" so I continued on.
I had traveled maybe a quarter of a mile then out of nowhere there's the trail. It came up the opposite side of the ridge that I came up on. I'm thinking how can this be? I find out later when I'm back at home examining the trail overlay on a topo map that I had to have missed a switchback that would have taken me around the nose of the ridge to the opposite side I came up. Oh well, I didn't get to see the cave but had some fun bushwhacking.
We had one other spur trail we checked out that went to Fiddler Spring. It was flowing but just barely. The trail followed Whites Creek for a ways then climbed back up on the ridges and stayed there the remainder of the hike. We arrived back at the truck at noon with clear skies and 54 degrees not ready to get back to civilization but one still has to make a living.
This is a really nice area and a fairly easy two day loop hike that I would recommend. The total distance we traveled was 20.5 miles. If you go be sure to take a good map and a compass as you can't depend on a defined "tread" or blazes along the entire trail.
A few pictures: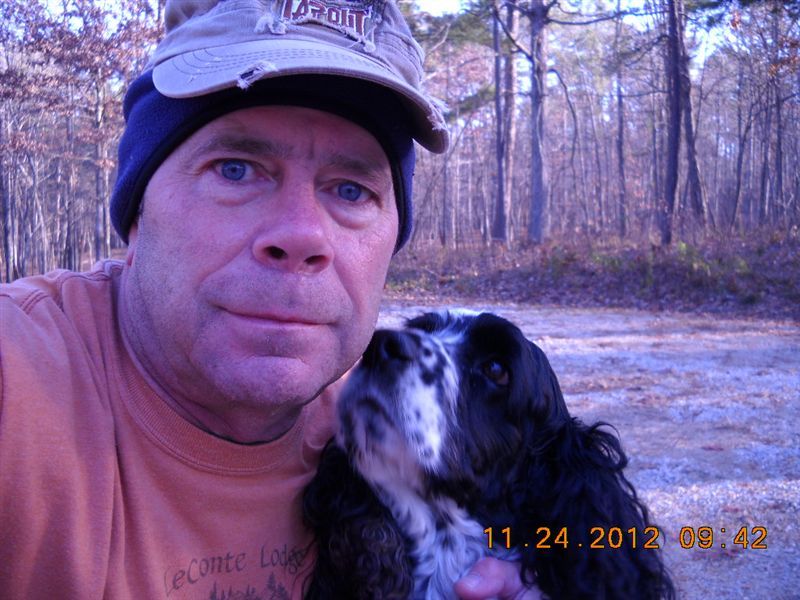 Mike and Spot at the Trailhead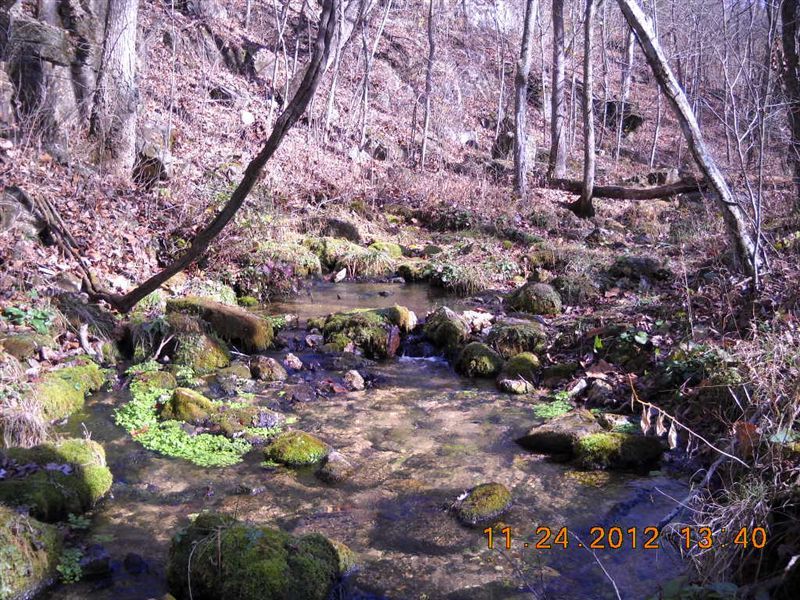 Bliss Spring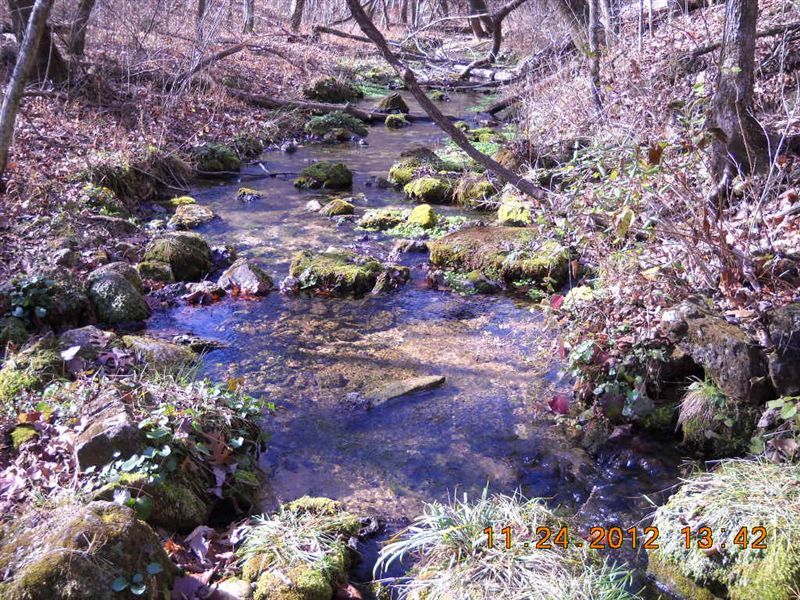 Bliss Spring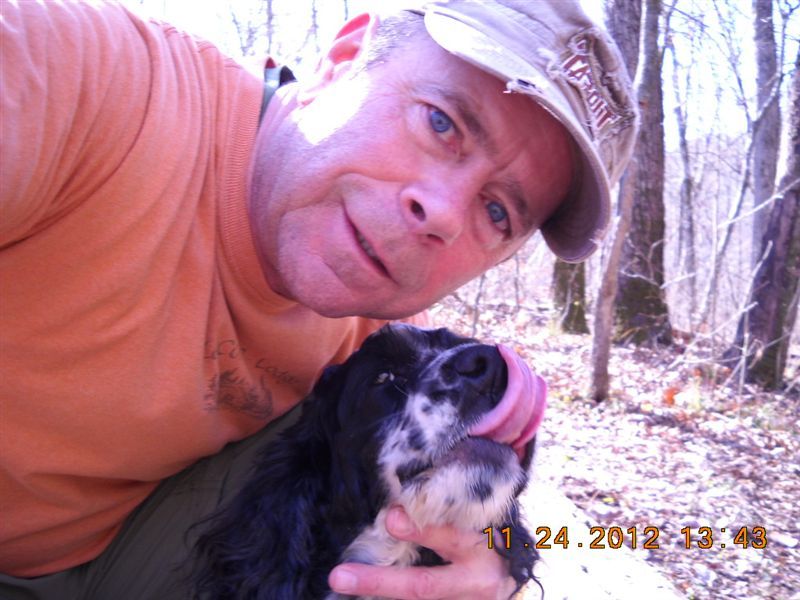 Spot cleaning up after lunch
Fireplace remains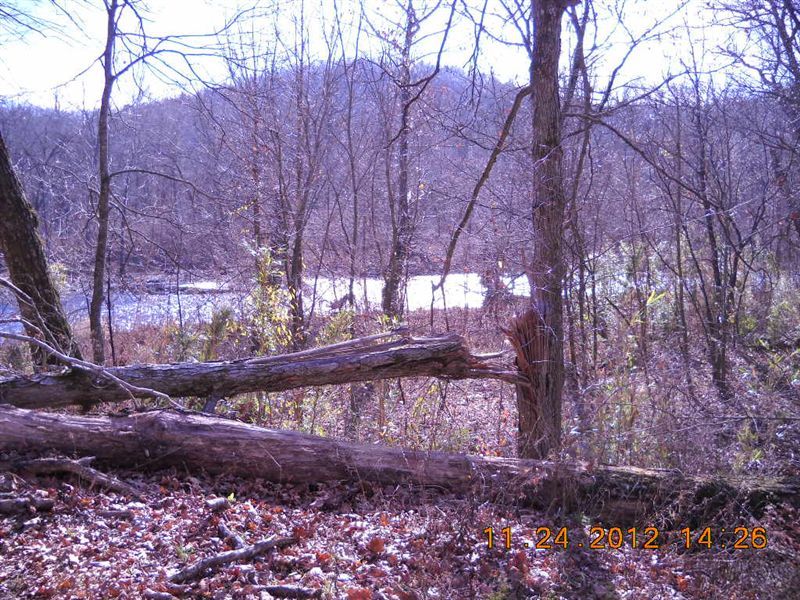 View of Eleven Point River from old homestead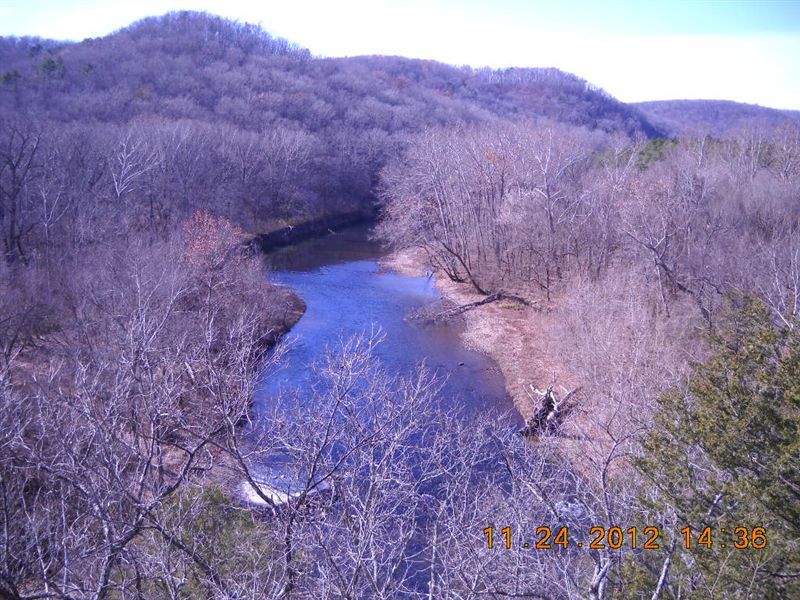 Eleven Point River from bluff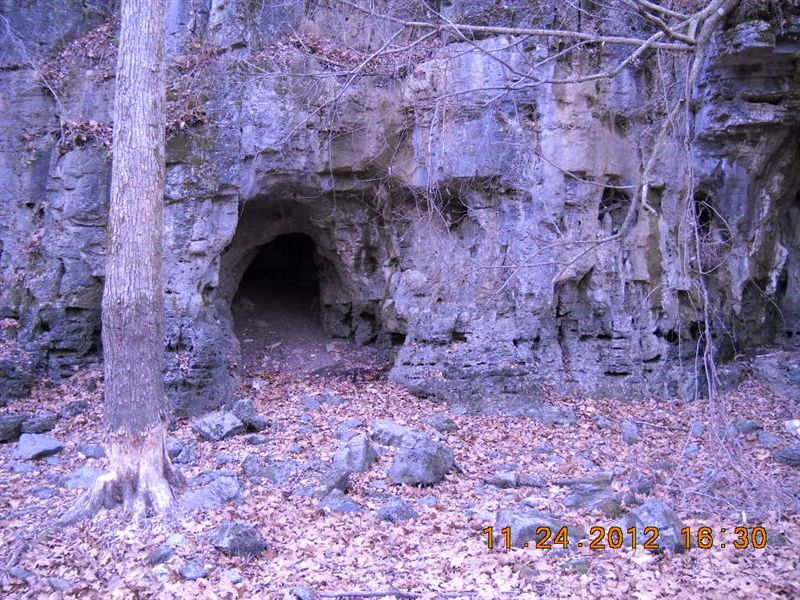 Caves along creek
Caves along creek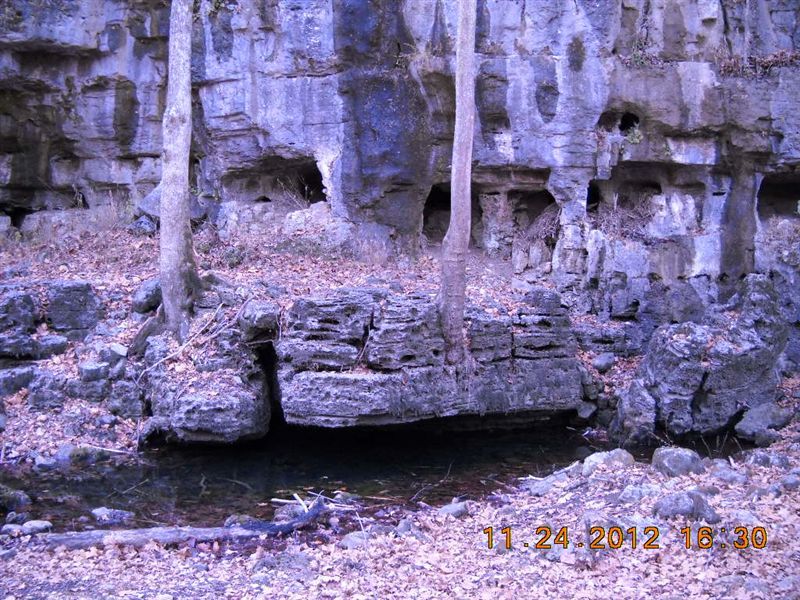 More Caves
Beavers have been working on a big tree. Put my cap in it for scale.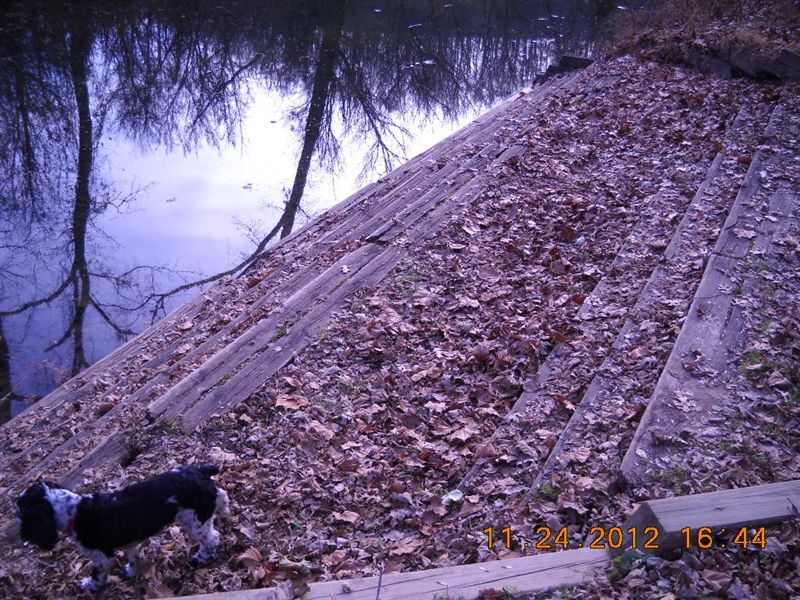 Canoe dock at float camp
Spot in his sweater
Frost Flower
Another Frost Flower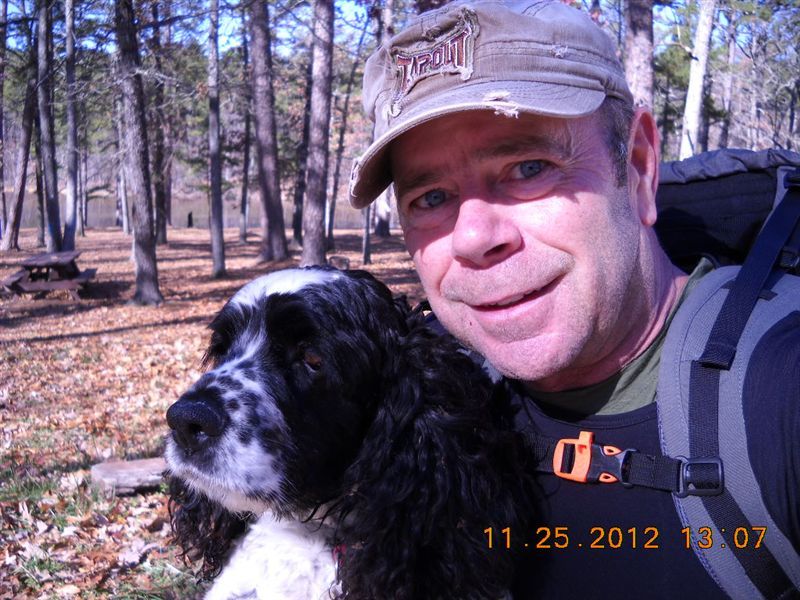 Back at the truck.