Karkaghne Section Grasshopper Hollow to Sutton Bluff Campground and back on Jan. 14-15, 2012.
I have not been able to be on the trail since my trip to the Grand Canyon back in early November so needless to say I have been getting a bit restless.
On Wednesday the 11th I decided work could wait, I was going to hit the trail. I already had the Karkaghne section maps printed and decided I would do an in and out on the southern section. Due to drive time and the short amount of daylight hours I decided not to start at the Hwy P trailhead opting for Grasshopper Hollow as a starting point with the Sutton Bluff Campground as my destination. This would make for an easy 12-13 mile hike each way.
I checked the forecast for the area and it looked great for the weekend, clear skies upper 40s to low 50s for highs and low 30s for Sat. night. I will let you know now the forecast was a little off.
I arrived at Grasshopper Hollow about 9:00AM Saturday. There was an inch or so of snow on the ground, which I wasn't expecting, but that just adds to the beauty of the forest. The temp was 27 and the skies overcast but I could see what looked like clear skies off in the distance. The trail is about 1/8th mile back up the road from the parking area so after putting on another layer of clothes and getting my bald head covered up I hit the trail.
The first 5 miles was a really easy hike with a wide tread and only minor ups and downs. The trail follows a high ridge line but does not provide any views to speak of due to all the trees, even with leaf off. Being on the top of the ridge did expose one to the blustery north wind that decided to kick up around 10:00AM.
The minor ups and downs change to some pretty good ups and downs after the first 5 miles. The tread also narrowed to what I am more accustomed to seeing. I did finally come to one pretty good view looking down on what I think was the Bee Fork bottoms. I could see a house, some barns, and many acres of pasture still covered with patches of snow.
Just a little after 1:00PM I arrived at Bee Fork. Looking around I could see the high water marks from last spring's floods. It amazes me the volume of water that would have been flowing down that drainage during that flood.
I proceeded to find a place shallow enough to cross and came upon a spot that after considerable thought and conjuncture decided I could get across without topping my boots. I proceeded to do my walk/hop on water routine and made it about ¾ the way across before I knew I had misjudged the water depth. There's just nothing like the feel of ice cold water coming over ones boots.
I cursed myself for not taking the time to change into my crocs and proceeded to get my boots and socks off. I managed to get my boots to a damp level by stuffing a towel I carry into them and letting it slowly soak up the moisture. It took an hour but I finally got them to where they wouldn't soak my only other pair of dry socks. Booted up and fueled I proceeded to climb out of Bee Fork.
One thing I want to mention is the massive damage to the forest from the storm in 09. The entire trek was like walking through war zone with the exception of some of the valleys. A tremendous amount of very demanding work has went into clearing the trail of storm debris. It's something you have to see to really understand.
One area on a ridge shortly after crossing Bee Fork there was a logging operation underway. It appears they are salvaging some of the downed timber, not an easy task. The sweet smell of fresh sawn timber hung in the air and was quite pleasant.
I arrived at Suttons Bluff (the actual bluff not the campground) around 3:00PM. I had stopped to get out my camera to take a picture of the river and campground when a pair of bald eagles soared by right in front of me. That was a sight to behold. This was only the second time in my 56 years to see bald eagles in the wild.
The trail on the bluff is narrow with a long steep drop off. Adding to this was a layer of snow that had partially melted and refroze. Needless to say I had to really focus on what I was doing to keep from sliding off the edge.
From my vantage point on the bluff I thought I would be down to the campground in a jiff but the trail meanders on around the bluff then switch backs take you slowly down. The trailhead parking area comes into view but it is still quite a ways on down to the river then crossing the bridge and getting to the park.
I made it to the camp area at 3:30PM and quickly got my tent setup and gear unpacked. The wind was still blowing so I had to attempt to stake my tent. Seems the ground was froze so my little stakes didn't want to penetrate. I ended up using some rocks on the corners to keep the tent from blowing away.
It didn't take long for me to dig out my down coat to keep warm, that wind just sucked the warmth out of me. It was about 36 according to my little thermometer which wouldn't have been bad except for the wind.
I fixed supper and by the time I finished and got stuff put away it was about 5:00PM. I decided to do a little exploring and proceeded back across the bridge and up the road. I walked probably ¾ a mile from camp thinking I would see where the trail picks up off the road. I never did see it but it was dusky dark and I could have missed it.
On the way down I circled the campground. This is a really nice campground with what I think was over 30 campsites. I laid down on a picnic table seat and watched the stars come out, what a sight! If it hadn't been so cold I would have stayed right where I was for the night but the wind was getting the best of me. I decided to call it a night.
I awoke a few times during the night which is normal for me. Seems like the older I get the less good sleep I get. One thing I could tell was that then temp had dropped like a rock. I was dreading the morning cold.
A crow calling woke me around 7:20AM. Even though I had left the rain fly door tied open, the tent was still solid frost inside and out. I grabbed my clothes and stuffed them into my bag with me to warm up. Fortunately I had put my boots and water jugs under a pile of clothes and my coat so nothing was froze, at the moment.
I got dressed and put on some water for coffee, decided to skip breakfast since it was so cold. I had set all my water bottles on the table when I got out of the tent. In 15 minutes there was ice in all of them. I checked my little thermometer to see just how cold it was and to my surprise it was a steamy 12. At least the wind wasn't blowing.
By the time I got everything packed up my feet and hands were really cold. I knew the climb up the bluff would get the blood flowing so I scurried on up the trail. By the time I reached the top of the bluff my hands and feet were beginning to warm up.
The hike back was uneventful except for the crossing at Bee Fork. Believe it or not I contemplated trying to walk on water again. It was still very cold and I didn't really want to pull my boots off and cross the creek in crocs, but I did. Man that water was really cold and when I came out the air hitting my wet feet was even colder. I dropped the crocs and quickly dried my feet and got my boots back on.
After eating a snack I reached for my crocs and to my amazement they had frozen to the rocks. It was time to get moving again.
I made it back to the truck just after 2:00PM. It had been a pleasant trek, not a lot of wow spots but just a quiet walk in the woods, which is what I really needed! Oh yea, it had warmed to a balmy 42 when I got to the truck.
Mike
Grasshopper Hollow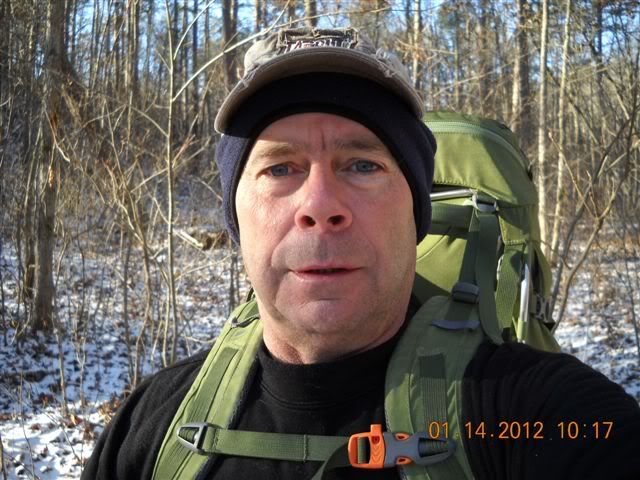 Me at Grasshopper Hollow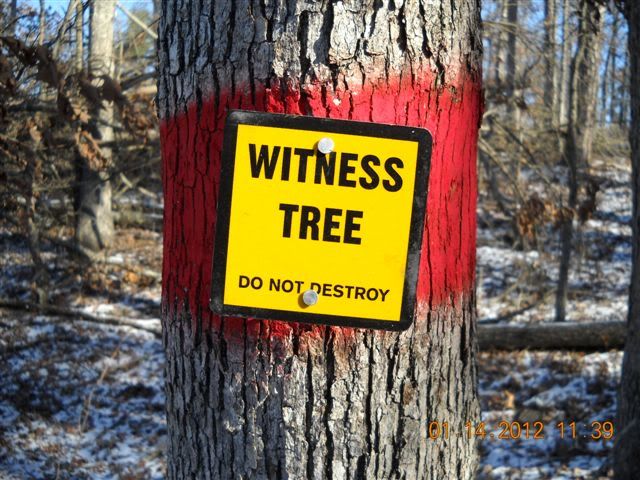 Wonder what this poor tree witnessed???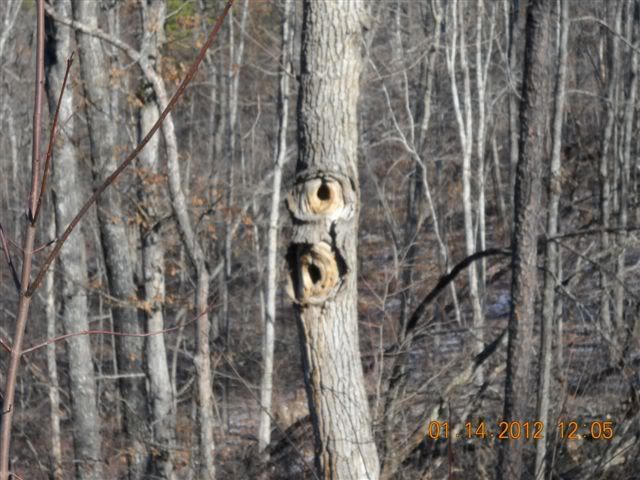 Two story condo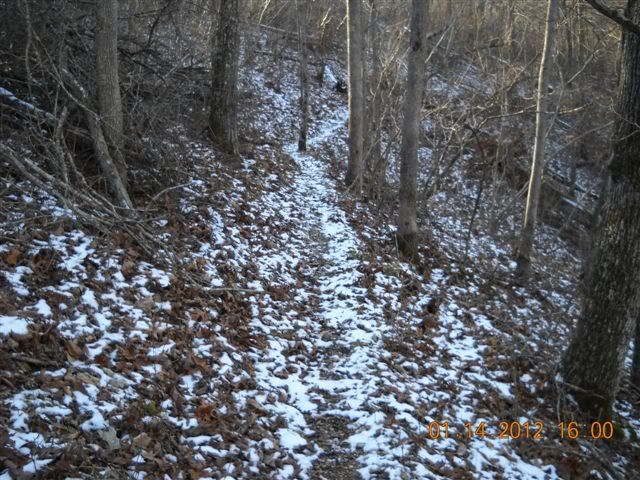 Shot of the Trail
Sutton Bluff slick!!!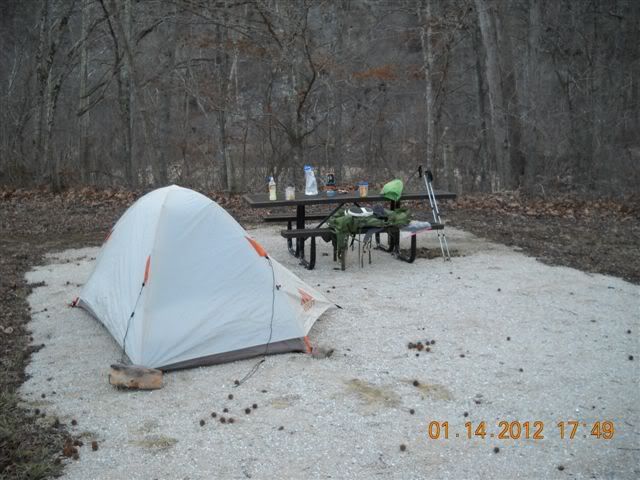 Home Sweet Home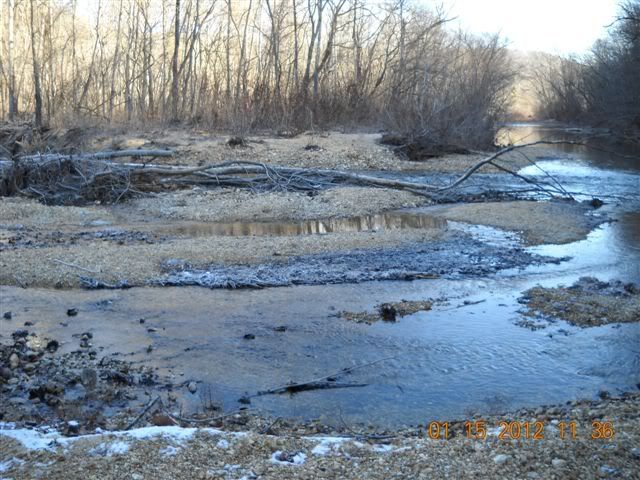 Bee Fork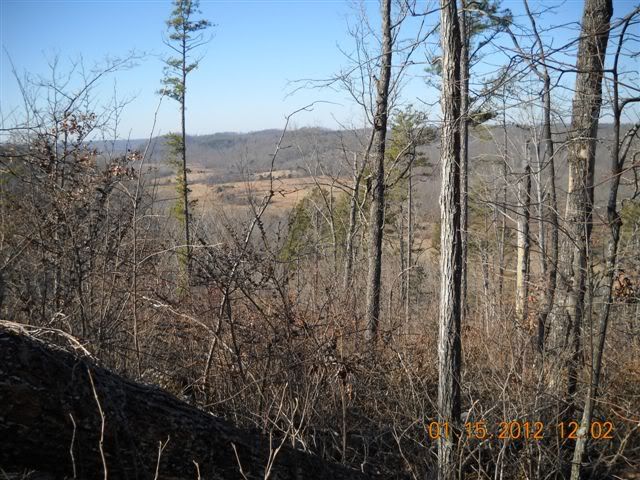 Best view of the hike
Four sets of high voltage lines against a beautiful blue sky