My youngest son, a mere babe of 33, had told me he wanted to go hiking with me sometime. He has no gear so I have used this as an excuse to replace some of my gear over the last couple of months so he could use my "hand me downs". My sweet bride of 37 years let this excuse pass since she thought it would be good for my son and me to spend some quality time together.
We had initially planned to do our hike a couple of weeks earlier but Mother Nature convinced me I should be building an Ark instead of tromping around in the woods. Our little community in Northeast AR has been like an island with the St Francis and Mississippi Rivers to our East and the Cache and Black Rivers to our West.
When I told my wife her dream of living on an Island had finally come true she informed me this wasn't exactly what she had in mind. All kidding aside we were fortunate in our area and my heart goes out to those who weren't so lucky.
We arrived at the trailhead at Powder Mill a little before nine Saturday morning, donned our packs and hit the trail. Just as we were getting across the Current River Bridge I noticed a ranger truck pulling over in front of us. The ranger wanted to make sure we were aware of the potential for flash floods should it rain since the river and all the creeks were still running very high. We thanked him and proceeded on down the trail.
We hiked to Klepzig Mill, made a very wet crossing then dropped our packs and ate some lunch. Along the way we passed by a large group of youngsters taking a break on one of the bluffs overlooking the river and another group of gents crossing Indian Creek.
I had told my son if it looked like it was going to clear off we would camp on top of Stegal Mountain where we would be dazzled with the brilliance of all the stars. Plan B was to make camp around Rocky Falls. Mother Nature decided to keep the blinds closed on the skies so we setup camp at the campsite by the Fall.
We had arrived at Rocky Falls around 3:00PM and then spent about an hour setting up camp and prowling around. The "Flood" has changed the appearance of the area since my last trip.
About 4:00PM we headed for Stegal Mountain. The views from the top of Stegal were pretty good considering how overcast it was. We took a few pictures and prowled around a bit.
Since there is cell service there my son called to report in and chat with his girls. He was telling the youngest he was on top of a mountain and could see for miles and miles. She proceeded to ask him if he could see her, she was at Lowe's with her Mamaw. He told her he couldn't and she just didn't understand why he could not she her if he could see for miles and miles. We both had a good laugh over this.
We scooted on down the mountain and got back to camp around 6:00PM. The group of three we had passed earlier in the day had made camp at the other campsite on the spur trail. We stopped and chatted with them for a bit then headed on to our camp to get supper fixed.
We turned in a little after 8:00 and were quickly lulled to sleep by the sounds of the water crashing down the falls. What a great camp site.
We got up pretty early and fixed some breakfast then went to explore the area around the top of the falls. You get a completely different perspective from the top looking down than when you're down low looking up.
We got on the trail around 8:00AM and were joined by the other group that had camped just below us. We went our separate ways at the junction as the other group was heading for Peck Ranch and we were back tracking to Powder Mill.
A few miles down the trail we met the group of youngsters we had seen early Saturday. They were heading for Rocky Falls and had camped a ways south of Klepzig Mill.
When we arrived at the mill we met yet another group of folks that had started on the trail Saturday afternoon. We chatted with them for a bit then headed on up the trail.
We arrived back at the truck a little after 1:00PM and put our gear in the truck. I asked my son if he was up to a little side trip and he said he was so we proceeded to Blue Springs. That spring is absolutely gorgeous!
Well that ended our little walk in the woods. We had a wonderful weekend that both of us will always remember and I think my son now understands why I sneak off to the trail every chance I get. He is planning on us doing this again.
Here are a few pictures:
At the Trailhead - Ready to Go
At the Rock Bar on Current River
Small Creek that empties in to Indian Creek with a pretty little fall.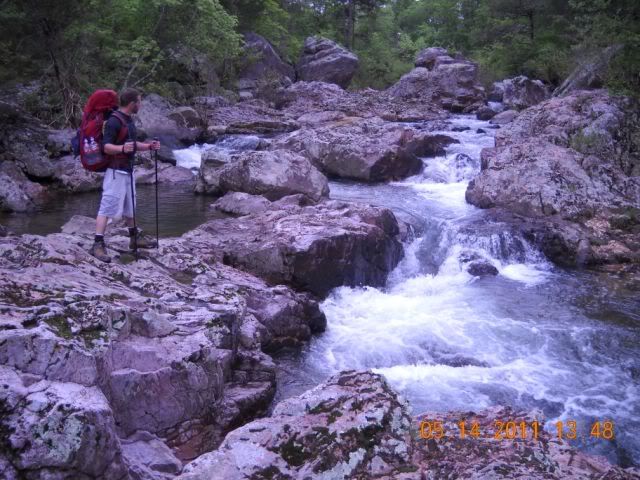 Rocky Creek. Wonder why it was named that....
I don't know the proper name for this but it is the biggest one of its kind I've seen.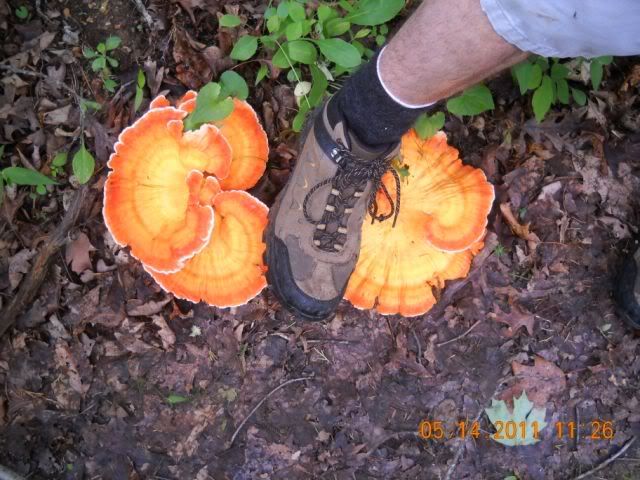 Here is another one with beautiful coloring. Foot is for size perspective.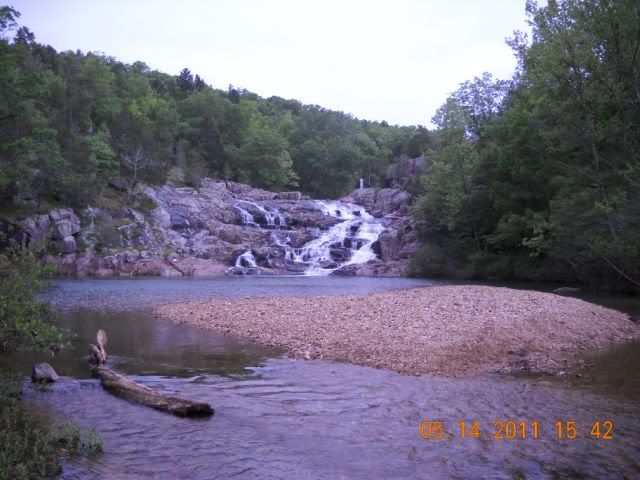 Rocky Falls with its new gravel bar.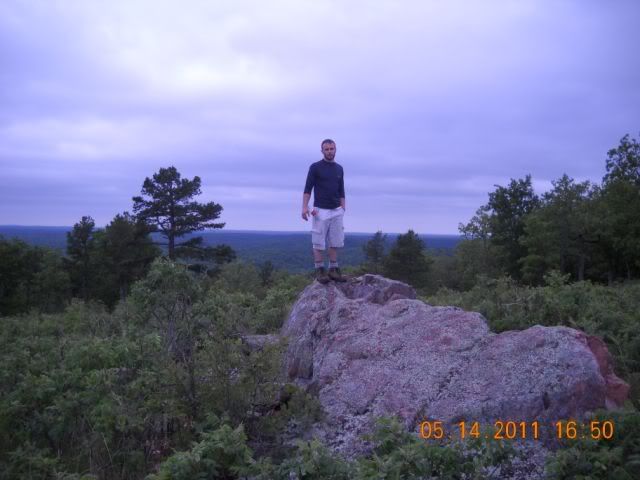 On top of Stegal Mountain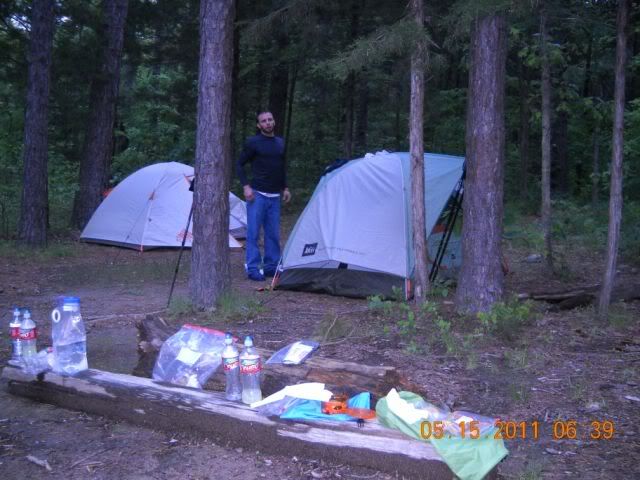 Campsite by Rocky Falls. You can see the falls through the trees from this site.
On top of the Fall looking down.
Where the water begins to "Fall"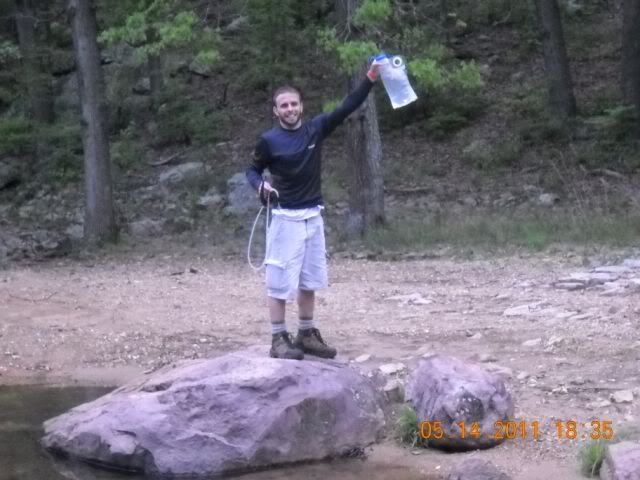 It's finally full.
I done it!!!