Blair Creek Section in and out February 12th and 13th 2011 starting at the Powder Mill trailhead hiking north to Blair Creek.
I guess I was a bit on the lazy side Saturday morning as I didn't leave Arkansas until 8:00AM. This put me getting to the Powder Mill trailhead around 10:30AM. The skies were clear and the temp was a balmy 42. Even though there was still snow on the north sides of the hills I decided to forgo my base layer.
At 10:45 I was on the trail again with near perfect weather. The skies were clear and the forecast looked unbelievable considering the week of weather we had just had. Sure seemed odd hiking with just a long sleeve t-shirt with snow still on the ground.
After crossing the highway and making my way up the hill I was greeted with a great view of Current River. I found as I continued on the trail there are several spots on the bluff line with great views.
I had noticed two sets of footprints in the snow that I'm guessing were from some folks that passed through on Friday. I saw these prints all the way to Dance Hall Cave and they may have continued beyond there but the snow was pretty much gone by that time so no tracks really stood out.
I passed by three established campsites at approximately 2, 4, and 5.5 miles in from Powder Mill. The first and third were beside flowing creeks with the second being on a bluff with no close water source but just a short walk to a great view. These were the only sites I noticed until Blair Creek.
Around 7 miles in I arrived at Dance Hall Cave. The opening to cave was larger than I expected and I could just imagine what fun folks might have had there in years past. The entire entrance to the cave is blocked with a steel gate but the slats of steel are far enough apart you can still get a good look into the cave. I was surprised by the site of ice stalactite and stalagmite covering a large area of the cave. I don't remember ever seeing this number of these type ice formations before, really cool. After looking around and taking a few pics it was back up the hill to the trail.
Even though the ground had thawed the trail was solid. The only places that were soft were the roads I had crossed and some of the creek bottoms that had some topsoil.
Around 7.5 miles in I came to the south end of the one mile road walk. Just a short way down the road I came to an old cemetery. I wanted to look around a bit but when I got off the road the ground was extremely soft due to the thaw and there being actual soil in the area so I moved on down the road.
I came upon two sets of footprints shortly after leaving the cemetery and in a few minutes overtook a couple of hunters with some beagles. I stopped and chatted with them for a few minutes then headed on to Blair Creek.
I was expecting to don the old crocs to cross the creek based on the information I had but where the road crosses the creek the water was only ankle deep. Up and down stream of the road crossing the water appeared to be over a foot deep. I lucked out!
After crossing I checked the time and saw it was 3:30. I decided to wander around the creek a bit and ended up finding a good spot to camp. I had intended to hike another 2 – 3 miles but I was really unsure what I might find camp wise so I decided to stay put.
After I got my tent setup and everything all homey I checked the GPS and it showed I had traveled a little over 9 miles. I compared this to the mileage on the trip planner and I was a mile higher. I know I had done a little off trail exploring but it was at most a quarter mile. I really wonder about these little technological wonders at times.
I prowled around the area a bit and ended up walking on down the road a ways. On the way back I met a group of youngsters on ATV's. They looked like they had been having a really good time!
By this time the sun had set and the temp started dropping like a rock. I decided to turn in around 6:30 since it was getting pretty chilly. There sky was crystal clear with a bright half moon. The coyotes started howling just after I turned in but gave it up after about 10 minutes. Those critters can sure make some pitiful sounding noises.
I awoke around daylight to a tent full of frost. My first thought was the weather mans forecasted low of 35 was a bit off. When I checked my thermometer it showed 22. I had left a half gallon of water I had filtered setting on a stump and it was froze solid. The loose gravel all around the creek was solid as concrete. Everything was covered with a thick layer of frost which made breaking camp a truly enjoyable experience.
I finally got on the trail about 8:45. Mother Nature can certainly keep you guessing as to what she will do with the weather. At 10:30 I stopped and dropped my pack, unzipped the legs from my pants, pulled off the long sleeve shirt to just my tee, then headed on down the trail. I could not believe how warm it was, I was sweating like a horse on the uphill climbs!
I made it back to the truck at Powder Mill at 1:00PM. I checked the temp and it was 69. Three days ago it was in the single digits with a near blizzard going on, absolutely amazing.
Overall this section of the trail was in pretty good shape. It appears the first couple of miles get a lot of use but beyond that not nearly as much. I must say I really enjoyed this section and look forward to finishing up the rest of it on my next trip.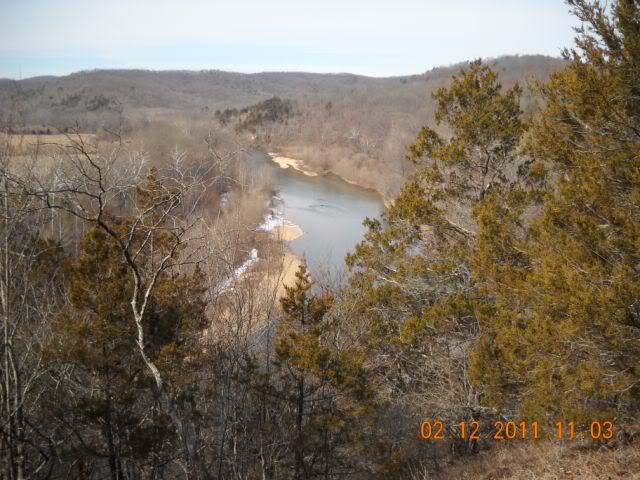 Current River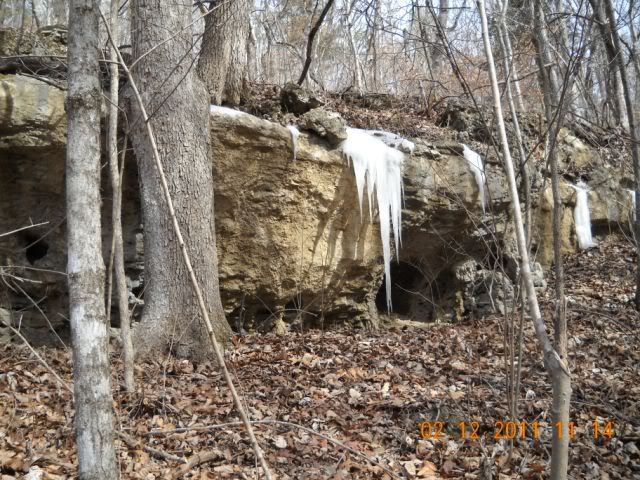 Ice Cicles on Ledge
Current River
Rocks where I had lunch
Dance Hall Cave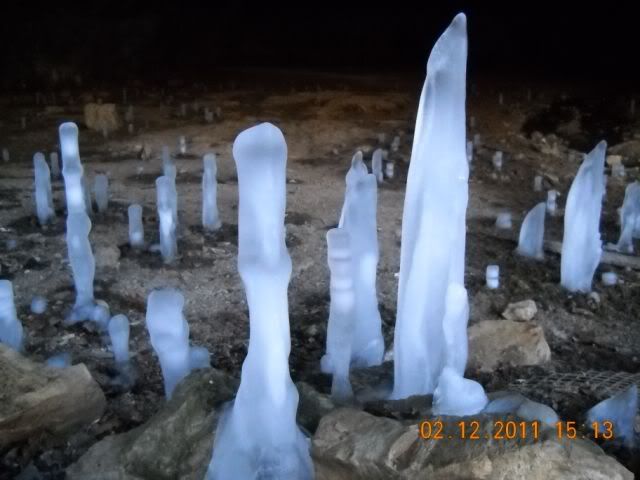 Ice Stalagmites
Blair Creek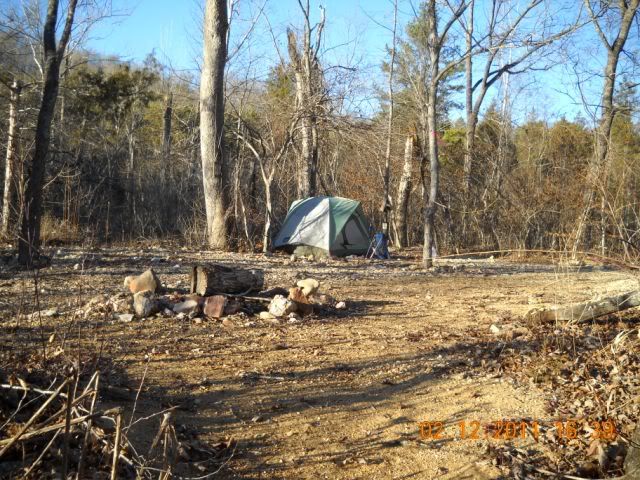 Camp on Blair Creek