Saturday and Sunday 1/22/11 – 1/23/11. In and out on Eleven Point section starting at Greer Trailhead and hiking west to Bockman Spring.
Arrived at Greer a little after 9:00AM. The temp was 28 and skies were somewhat overcast but starting to clear. Everything was snow covered and absolutely gorgeous.
By 9:30 I was making my way to the upper trail. I noticed footprints in the snow heading east but mine were the first going west on the upper trail. Hiking with snow cover adds a whole new dimension. It seems the terrain all becomes more defined and you notice things you normally wouldn't.
When I came to the west junction of the river and upper trails I picked up footprints again. It looked as though there were some others out enjoying the beauty and serenity of a hike in the snow. They continued on for another 3.5 miles then turned around. The trail was undisturbed by humans the rest of the way. There were lots of animal tracks though.
About 2.4 miles in I came to the bluff area where a cedar fence has been constructed and there was also a picnic table there. The views from this spot are outstanding. The sky was crystal clear and with the addition of the snow cover it was picture perfect, absolutely breathtaking, a true "Kodak Moment".
The rest of the trek to Bockman was like walking in a winter wonderland. There are a few ups and downs but nothing very tough. I saw deer and turkeys on and along the trail. As usual, the turkeys like to have put me into coronary arrest when they took to the air. I honestly think the critters intentionally lay in wait for me and then blast off just as I get close then regroup and have a big laugh about scaring the wits out of that stupid hiker. It's nearly enough to make me want to take up Turkey hunting!
I arrived at my destination at 3:00PM and started looking around for a place to make camp. The snow was pretty much a slushy mess in the clearing where it appeared folks normally made camp. I decided to setup camp under the trees in the tall grass where it wasn't so wet. As soon as I finished getting my tent up and everything stowed away I grabbed a light and headed for the spring.
The spring runs out of a pretty large cave. You can easily stand up in it and it goes 20 feet or so back then turns to the left and goes another 10 feet or so then tapers down quickly. I just took a quick peek not wanting to disturb anything but I'm getting a bit ahead of myself here. Let me back up a bit and tell you what I first found:
I had checked out the entrance to the cave noting how someone had used stone and mortar to close in the opening and create what was probably a wooden doorway that was now gone. I climbed on up and through the opening and took a few steps in then paused to look around. I immediately heard something that sounded a bit like something snoring. I must admit this sent a chill up my spine.
Immediately I thought; winter time, cave, snoring sound, BEAR!!!! At that moment the noise of my heart pounding was louder than the "snoring". Being the fearless trekker I am I quickly took a step back to better access the situation. I then slowly rolled my ear warmers up so I could hear a bit better and bravely turned on my light and shined it into the darkness of the cave. That's when I found out the cave made a left turn.
I think it was about this time my imagination pictured a very hungry and very pissed off 12 foot tall grizzly coming out of the darkness to tell me what he thought of me disturbing him. But wait, there aren't any grizzly's around here. True, but there may be some black bears. Wait, what was that noise? It's right in front of me…
It was at this point I realized the "snoring" I was hearing was right in front of me. I shined my light down and lo and behold there in a pool of water was a small pipe that had been placed there to get the spring water out of the cave. The water flow was such that every so often the water level would fall below the top of the pipe causing the pipe to "suck air" and thus "snore".
Since I had smitten the "snoring bear" I bravely proceeded to explore the rest of the cave. After finding no more dangerous creatures I exited the darkness and proceeded to prepare a feast of freeze dried beef stroganoff and instant lemonade with a Kit-Kat for desert. Brave and heroic actions such as I had exhibited deserve such a feast.
Well that was my 10 seconds of excitement anyway. After dinner I decided to walk on down the trail a bit. After walking about a mile or so it was getting dark so I turned around and headed back to camp. Even though it had clouded up, blocking the moon, the snow reflected enough light I didn't need my light to find my way back to camp. Hit the sack for a very quiet and restful 12 hours.
Sunday morning I crawled out around 7:00 fixed some coffee and had a couple of pop-tarts. Broke camp and was on the trail about 8:30. The temp was around 28 and the skies were totally overcast. As I backtracked back to Greers I was amazed at how the snow had melted. The south facing hills were pretty much clear of snow.
With about 2 miles left to go, a light rain with an occasional snowflake started to fall. I took the lower river route which was a big change from what I'm accustomed to walking on in the Ozarks. Let's say it is a bit sandy in spots which is not bad just different.
I arrived at the truck at 1:00PM a little damp from the rain but pleased with the journey. Overall this section of the trail was in good condition, well blazed, and easy to follow. My thanks to all those that maintain the trail.
View from the first bluff
Eleven Point River
Distant Mountain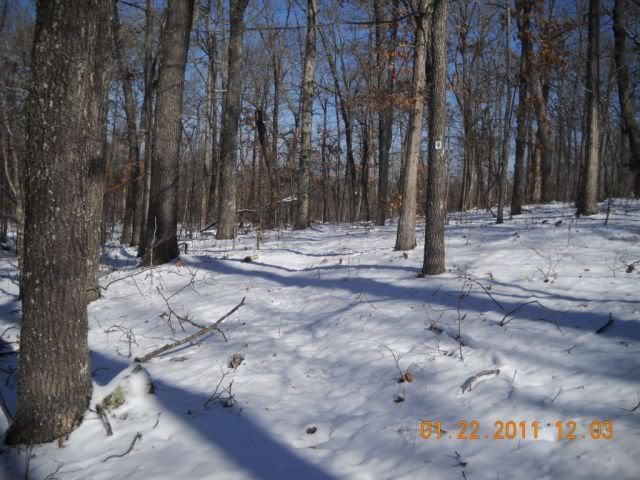 The Trail
Skull beside trail
Bockman Spring
Campsite at Bockman
Water pipe coming out of cave