Taum Sauk section starting at the Highway N Trailhead at Johnson Shut-Ins backpacking to Taum Sauk Mountain Trailhead, overnighting, then back to Johnson Shut-Ins
Nothing like a "brisk" walk in the woods to get the blood flowing! I headed out from Arkansas about 5:30AM on Saturday 12/18/2010. The temp was around 28, not too bad I thought. It cooled off a bit the farther north I got. At one point on Hwy 60 just before the turnoff onto Hwy 21 the temp was 15.
As I turned off 21 onto Hwy N I started seeing a light dusting of snow on some of the mountains. It was about this time I thought "this is going to be fun". I arrived at the Hwy N trailhead around 8:20 and it had warmed up to 18. I donned all my gear and walked over to the registration box and filled out the card. After completing the formalities I headed across the footbridge and into the woods.
At the first junction I hung right and followed the Scour Loop. It is amazing what water heading down hill in a hurry can do! After taking a few pics I headed on up the trail. The next 2 miles or so after the loop is pretty much all uphill through the woods.
The trail leveled out at the top of Proffit Mountain and ran primarily through glades with what would be great views if Mother Nature cooperates. My whole trip there was a winter "haze" that limited visibility, but that just added another dimension to the journey.
After following the ridges a couple of miles the trail starts a descent where it will pickup Ketcherside Mountain. Uphill again as you start the ascent up Ketcherside. Great views again as you make a U around the mountain. After about 3 miles it's downhill again to a small creek crossing. The trail pretty much follows the bottom of this hollow without any serious ups or downs.
The trail then starts a gradual turn to the East-Northeast and follows Taum Sauk Creek. This is a really nice area with several campsites along the trail up to Mina Sauk Falls. I think this stretch was between 2 and 3 miles long.
I hadn't mentioned it previously but there was ice and snow everywhere. The ground was frozen solid and had "heaved" up where it was moist. When all this starts to thaw it is going to be messy. The ice made for a treacherous hike but it is so beautiful it was worth the risk to see. Mina Sauk was solid ice. You could just see a trickle of water in behind the ice.
When I reached the falls it was about 3:30. I stopped for a few minutes and took some pics and then scrambled up to the top. This is a pretty tough climb with a pack and you have to really watch for the blazes. Of course the ice and snow on the rocks made it even more challenging.
Once at the top where the junction is I decided to bear to the right since it didn't look as steep a climb according to my map. The next quarter mile was a trip. I had been in and out of icy spots all day but this section took the prize. I managed to get through without falling thanks to my trusty poles which have saved my butt on many occasions.
I stopped at a spot along the creek that wasn't iced up and filtered some water. It was after 4:00 when I finished and I wasn't sure where the campground was so I picked up the pace and moved on down the trail. Well, I made it to the paved portion of the trail and followed it to the parking lot. I saw the toilet and a nice pavilion along with a large parking area. Then I noticed a sign that said "Day Use Only". OK, the camping area must be somewhere else.
There were some brochures outside the toilet. There was one for "Taum Sauk Park" that detailed all the park amenities including the 12 primitive campsites. Unfortunately there was not a detailed map of the park in the brochure and it was getting dark so I headed back up the paved trail looking for a spot to make camp.
Have I mentioned that it was cold? The highest temp for the day according to my handy little thermometer had been 28. The sun was setting, the temp was dropping, and I was still walking around. Then I spotted a good spot to spend the night.
At this point I need to state that I am a law abiding citizen and never intentionally break any laws but I probably did with my choice of camp sites. I won't state publicly where I camped but if there was anyone in Missouri at a higher elevation than I, they had to have wings. I do practice "Leave no Trace".
There was a bright full moon with its beams reflecting off the snow so it never got real dark. I setup my tent, fixed some beef stew for supper, and was in the sack by 6:30 and stayed there for 12 restful hours. It was a beautiful peaceful night.
Woke up Sunday morning around 6:30 and finally got up enough courage to slide out of my warm bag and get some water heated up for coffee. When I crawled out of my tent I was greeted by a nice little breeze. A quick check of my handy dandy thermometer showed the temp to be 18. With the breeze it felt a tab bit cooler. It didn't take me long to get the water on the stove and jump back in the tent to get another layer of clothes on.
Shortly after 8:00 I was packed up and heading back down the trail. I took what I guess could be called the north section of the loop that heads back down to the Falls. There were some nice views going this way and I was glad I had made the decision to make my return on this side of the loop. It is considerably steeper and had lots of icy areas making for an interesting start on the days trek.
The return trip to the Shut-Ins was a pleasant trek. I stopped for a lunch break on Ketcherside where I had a nice view of the reservoir. This spot also had a large area that was enclosed with an electric fence that the State had installed which I assume was there to keep critters off the area. It may have been seeded or something, there was no signage as to why the fence was there, just that it was placed there by the state and was electrified. Please note this is a two wire fence like is normally used to keep livestock contained not something sinister like you might see around a prison.
I arrived at the parking area where I had left my truck a little after 3:00. It had warmed up to 40 with a southerly breeze. As I was putting my gear in the truck I was thinking what a great trail this was. I do believe it is my favorite section of the OT thus far.
Some brief comments on this section:
Trail is well blazed and easy to follow so long as you pay attention to the blazes. There are a lot of areas that are extremely rocky where there is no defined tread to follow so be on the lookout for the blazes. I would highly recommend boots with ankle support and trekking poles for this section due to its rocky nature.
There are Mile-Marker signs that are helpful with keeping up with where you are, a nice addition I have not seen on the other sections of the trail I have traveled.
I noted 7 good campsites with the first being in a glade area about 7 miles in from the Hwy N trailhead. No water but a ¼ mile or so on down the trail you should find water. The rest of the sights are scattered along the creeks and have access to water. This makes for lots of options for in and out hikes.
This section offers it all, ridge running, glades, creek bottoms, and some stunning views. My thanks to all those that worked to get this section opened back up.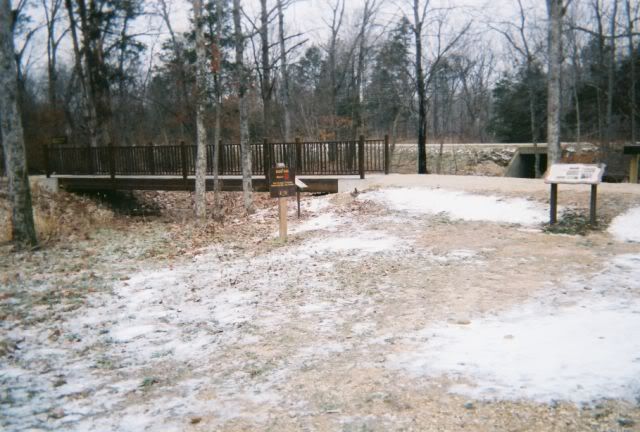 Trailhead at Johnson Shutins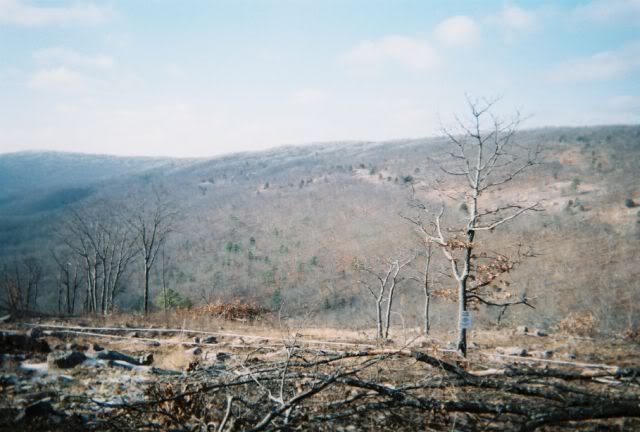 Electric Fence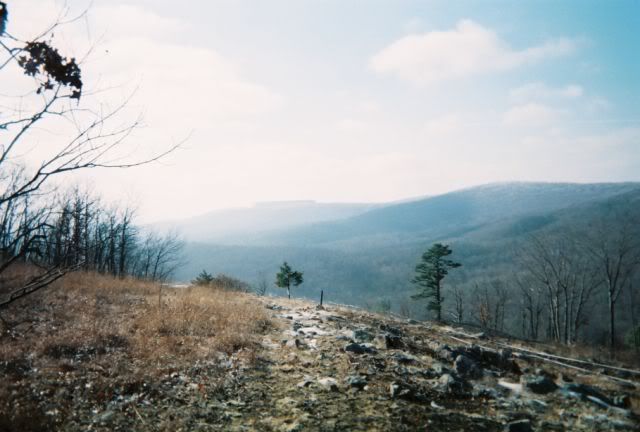 Reservoir in the Distance
View from the Glades
Frozen Waterfall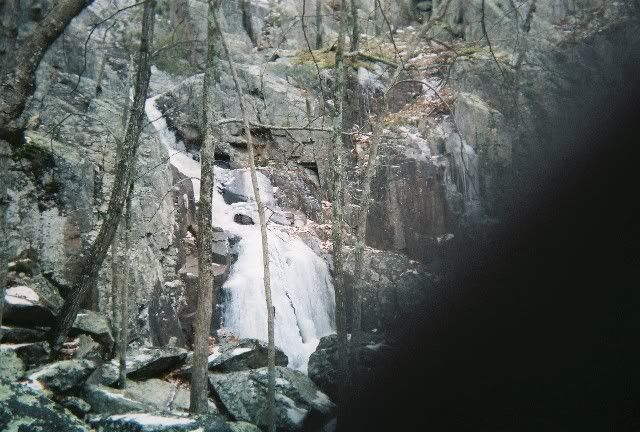 Mina Sauk Falls Frozen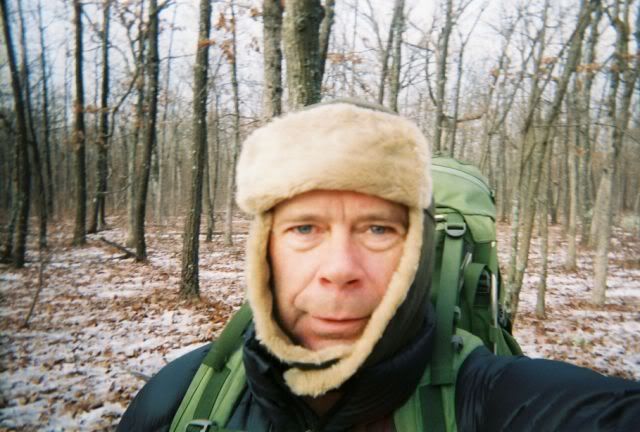 18 degrees and windy