Saturday 23rd 2010 9:00AM arrived at the Powder Mill trail head. Strapped on my pack and hit the trail. The weather forecast was a bit on the threatening side but turned out to be a pleasant weekend. The fall colors were getting close to peak. I'd say by next weekend they should be there.
Couple miles down the trail something off the trail a few feet caught my attention. It turned out to be an armadillo rooting around. I walked over for a closer look and it raised its head and gave me a look. First time I've seen one up close that wasn't road kill.
I knew it was extremely dry and all the creeks really showed it. This was the first time I had been on this section that I didn't have to take my boots off to cross Indian Creek and Rocky Creek. The way the wind was blowing Saturday I was certainly hoping no one was careless with their camp fire. The area is definitely a tinderbox.
Made a stop at Klepzig Mill and ate some lunch. Always a nice place to stop and take in some scenery.
After a short break it was time to hit the trail again. I made it to the top of Stegall mountain around 3:00PM. My intentions were to make camp there but decided since it was so early I would trek back down to Rocky Falls. I did take a break and enjoy the views. It is a really cool spot with great views and interesting rocks, pink granite I think.
When I made it back down to Rocky Falls I had selfishly hoped the primary campsite close to the falls would be available but there were some folks already there. I back tracked a bit to another nice spot and setup camp. Once I had camp setup I went on to the falls and filtered some water then proceeded to cool off a bit in the pool at the foot of the falls, very refreshing.
The gnats had been annoying pretty much all day but when the wind died down a bit they became downright treacherous. As soon as I had finished dinner I had had enough of the pesky critters and hit the sack. The sky cleared shortly after dark with a bright moon rising that lit up the woods. Wonderful quiet night, slept like a baby.
Got up with the sun on Sunday, fixed some coffee and ate some breakfast. It had been a very dry night, no dew or moisture on anything, very unusual. Packed up and hit the trail again a little after 8:00AM. Stopped a few times on the way back to Powder Mill to take in some views. When I was about ¼ mile south of highway 106 I had a huge buck dart onto the trail about 50 feet in front of me, like to have given me a heart attack. He was really moving on so I may have scared him too.
Got back to the truck a little before 1:00PM and was wishing I had added a few miles to my trek. Over all the trail in the section I traveled was in good shape and well blazed. I saw more hikers on the trail this weekend than I have seen before which is good in my opinion. Thanks to all that maintain the trail, you're doing a great job!
Armadillo rooting around
Wild Horses Look Close
Rocky Creek
Rocky Falls
Campsite near Rocky Falls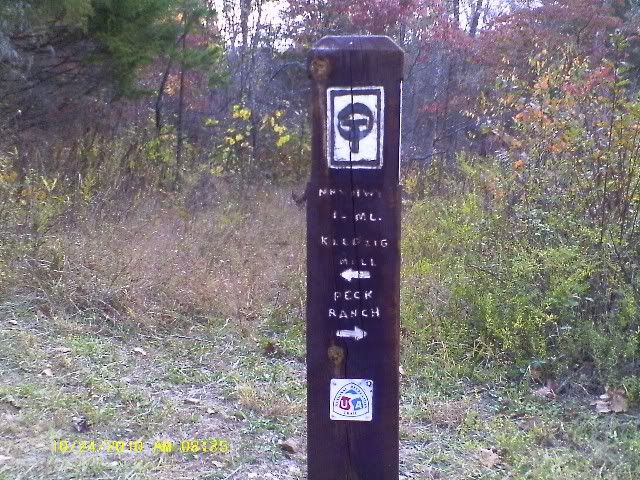 Trail Marker at Rocky Falls spur trail
Carins on top of Stegall Mountain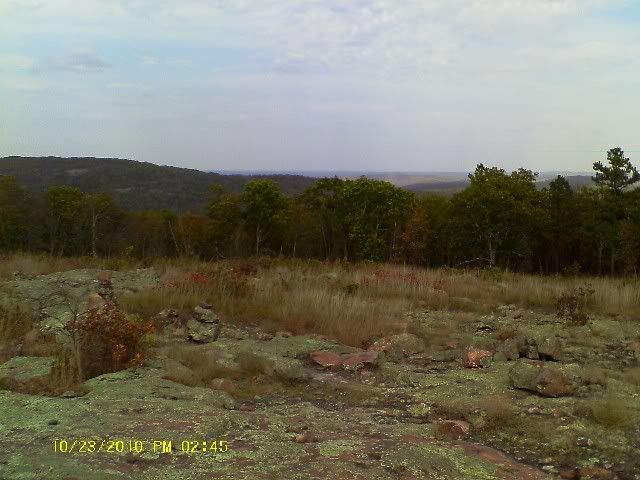 View from top of Stegall Mountain