Still trying to recover from a bike ride from Berryman Camp to Hazel Creek camp, didn't actually make the camp stopping just short at Sapp's Branch crossing. I have always gazed fondly south while traveling Highway 8, wondering where that stretch of the OT takes you. I have done the mile from Berryman to Highway 8 and always thought that was one of the funnest parts of the trail to run and ride. But never did venture any farther south than Lost Creek. Having some time to play and a faithful companion named Matt to join in, we decided to do this instead of Berryman Sept. 15. We got a nice cool day to start with some humidity thrown in. Crossed Highway 8 about 10 am, ventured through the creek which was about a foot deep and trudged through sand to the first big climb. Matt mentioned something about this section being steep. We both carry granny gears on our bikes and we needed every tooth. Somehow we made it to the top, rewarded by some nice pine woods and a rip snorting run downhill. I remember saying to Matt that the trail would demand payment for how fun that downhill run was. That proved prophetic as each down was met by a grueling climb. Along the way we crossed lovely streams, more of those tall pines and occasional logged sections that are growing back nicely. There are several road crossings, next time we will have a map in case we need to bail, although my look at the map after returning home shows they start heading east instead of north pretty soon. One of the nicest spots was a fern filled hollow with moss covered boulders and some monster pines. Not sure what this is called but we dubbed it Fern Valley. We crossed maybe 5 or 6 small downed trees, moved a few more but never had to bushwhack. In many parts someone has trimmed the grass, thank you! For some reason we thought Hazel Creek camp was 8 miles. After reaching Sapp Branch and not finding the camp, we decided we had had enough and headed back. We were probably still 2 miles from Hazel Creek. Sapp Branch is one of the most unusual creeks I've seen in Missouri. For as far as I could see, it runs over a solid slab of limestone. This is an incredibly beautiful section of the OT and well worth the strenuous climbs. Be warned to take plenty of water or a filter, I went through 100 ml of water and 12 ounces of Gatorade. Allow extra time too, we rode from 10 am to almost 4:30 pm with only brief stops to cover about 22 miles. Here's a few pics:
Fern Valley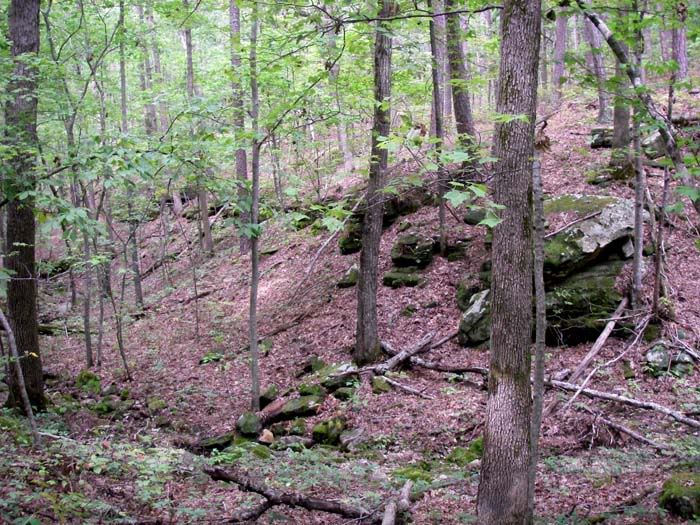 Typical sweet singletrack!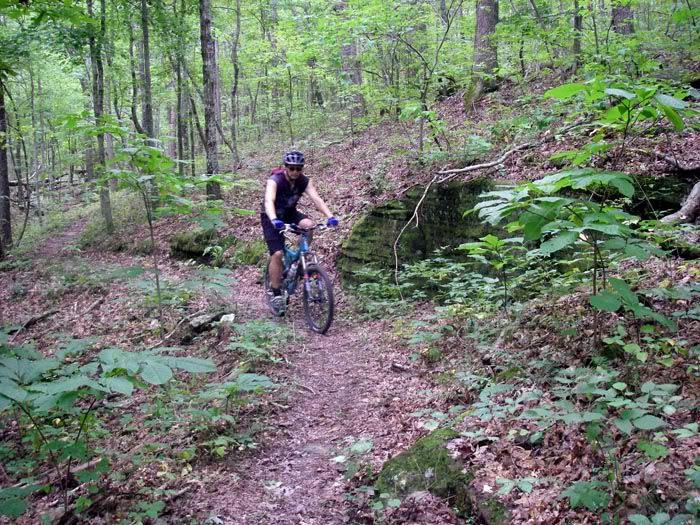 Sapp's Branch -- looks like I am pondering nature, actually gasping for breath after 11 miles of riding...