Thursday April 8th through Sunday April 11th 2010. Weather was beautiful, crystal clear skies with warm days and cool nights.
Started trek at the Current River bridge on Highway 106 around 10:00AM and arrived at Greers Sunday afternoon around 4:00 for a total trip of 74 miles.
This was my first trek on the OT and overall the trail was well marked and in very good condition. From Hwy 106 to Rocky Falls appears to carry considerable more traffic and was probably the most scenic section of the entire trek. The dogwoods, redbuds, and several different wildflowers were in bloom and most plentiful in this section not to mention wonderful views of Current River. The area around Klepzig Mill was impressive also, I spent about an hour prowling around the creek and old mill. The side trip to Rocky Falls is a must, another spot that required a little exploring.
Ended the first day with the climb to the top of Stegall which provided spectacular views. Setup camp and enjoyed a crisp crystal clear night of total silence with stars so bright and numerous I felt as though I could reach out and touch them.
Friday stopped for lunch at Mint Spring, a really neat area that has a spot you could camp. Got to Pike Creek crossing and decided to drop the pack and cool off in the creek, very refreshing. Hiked about 4 miles past Hwy 60 and camped in the woods.
Saturday was pretty much just a walk in the woods. A few hills to climb and some bottoms to meander through. Made camp at Gold Mine Hollow which turned out to be a pretty good spot to camp.
Sunday finished up the BtR section and entered the ElevenPoint section. The upper trail would have provided some spectular views but the leaves had already put out enough to obscure it. I did get to see a Bald Eagle up pretty close while I was on top of one of those big hills. I must say I was glad to finally see the parking lot and my truck, the 80+ degree temp was beginning to take the fun out of it.
This was another wonderful walk in the woods. My thanks to all that help maintain these trails, you are doing an excellent job.
Current River
Indian Creek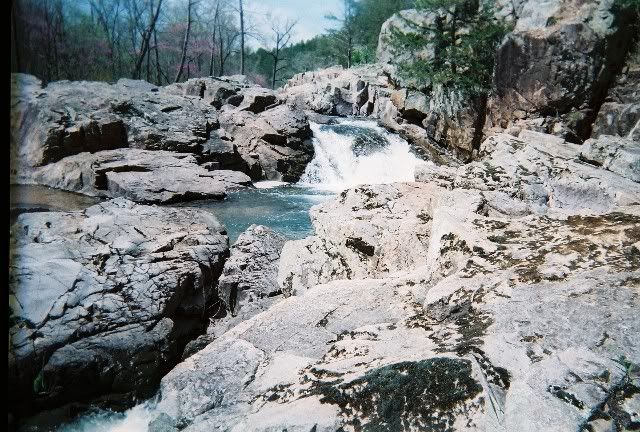 Rocky Creek
Klepzig Mill
Rocky Falls
Stegall Mountain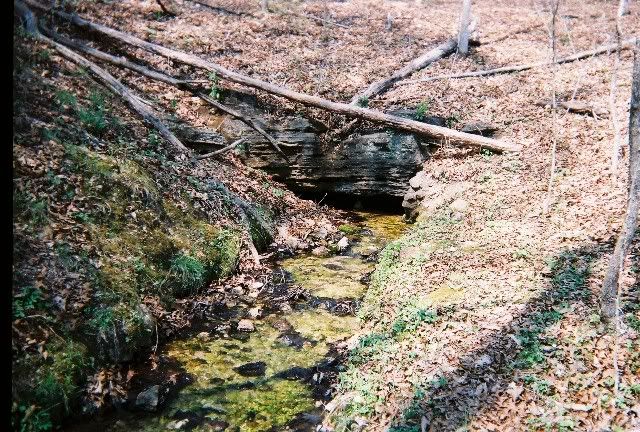 Mint Springs
Classic in need of a little TLC
Camp 4 miles south Highway 60
Pretty Creek can't remember name
Goldmine Hollow
Another creek
Looking down on Eleven Point River. It's really there.
71 miles later at Greers. Would like to have kept going but had to get back to work.